Sticky Pigeons' First Devlog
---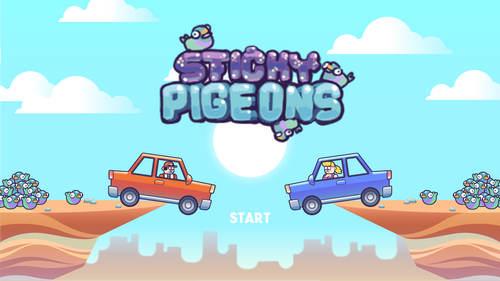 Howdy friends!
Ever heard of the myth that if a car is perfectly balanced on the edge of a cliff, and a wild pigeon appears and delicately rests on the car's hood, the car will slowly start to tip over and fall to its doom? If you're not sure where to stand on this matter, or if you are and would like to affirm your convictions, you can watch the Mythbusters episode run that experiment yourself with Groovy Antoid's latest game: Sticky Pigeons.
Developed during a game jam in Beirut (Nov. 24 - 26) under the theme of balance, Sticky Pigeons draws on direct inspiration from the aforementioned myth. Of course, we added a nice twist and turned this experiment into a fun two-player versus game, where you fling pigeons at your opponent's car to make them fall first. In Sticky Pigeons, it's tip or be tipped! Better watch out for the wind, too!
The current build as of this post is pretty much what was made during the jam. Expect some juicy updates very soon!
Have fun playing Sticky Pigeons. We sure had!
Fouad from Groovy Antoid.